I really love Forever 21
. Most people are familiar with it, but if your not then I would insist on looking into it. The store is just fabulous. You can find almost anything, from the grunge style to chic and sophisticated for a fraction of the price that most stores charge at the mall. The store is mainly geared towards teenagers and the young twenty something crowd, but honestly I think woman at any age can shop there and I really mean it. The menu of sophisticated items is almost endless and the prices are to die for. The great part of the store is that they have a mens collection. Each time i stop in I buy bags full for myself and always manage for find something for my picky yet trendy boyfriend. This store is great for those girls who are always out. Most girls don't like re-wearing outfits that everyone has already seen them in, and when your that kind of diva then this store is perfect because you can always afford a new addition to your closet.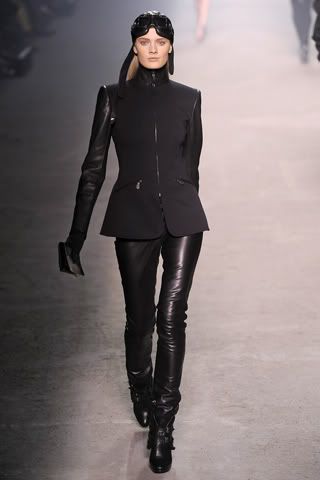 Photo: Imaxtree
This little outfit is from Hermes, Fall 2009 Collection, and I love it! The tight leather pants are a big hit. They pair a sexy pant with a simpler and sophisticated blazer which you can find at Forever 21. The great thing about Forever 21 is that you can find almost everything that you see on the runway quickly, so you dont have to be fashion savvy and spend your entire budget on your closet.